The important thing about Queue Management is to offer the client different possibilities in a simple way adjusted to reality. From the design of aTurnos for the reservation of appointments, the client has all the options to schedule the appointment and see the available services.
It is a tactile system easy to navigate. We have summarized the system in a serie of services that meet the capabilities of the staff for the client to select an appointment for the present moment or for the time slot available. The system directs the client to our available resources, so we can maintain costs and offer new services.
This is our initial proposal, we can always adapt to the client's designs and look & feel. We always work with HTML, the connection of aTurnos is through this system. If you have digital content and want to show it during inactivity, any HTML content is compatible.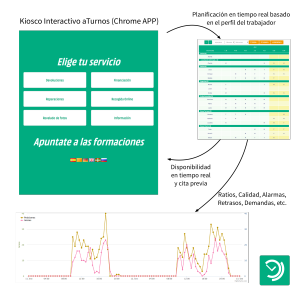 We have two models so you can take a look but we have suppliers who can design the furniture to meet your needs and design. We present two possibilities: